Brace yourself for a long update! I can already tell this game is going to have a lot more screenshots (and probably take longer) than Ham-Hams Unite.
CHAPTER 1 CONTINUES ...
Okay, the boat drifted to the west, but since there's boulders I'm gonna have to run around the peak again. JOY.

A voice calls out to me along the way, so I stop and learn another Ham-Chat word that I undoubtedly already knew before.
There you are! ...But it still won't start for some reason. Maybe that guy knows what's up.
YES.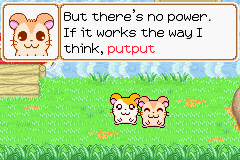 Oh, so it needs a power source? That explains the conspicuous battery-shaped hole in the boat's floor! And I know just where to find a battery.
Aha! BATTERY GE--... wait.
That is a swan-shaped thingy, like that one hamster was looking for. I try to reach out and grab it when a hamster suddenly pops up from under it.
Hey, I'm not afraid of water either! I just don't like getting wet, is all. Totally different things.
Oh boy, as if I haven't been asked enough favors already. Lay it on me, Seamore.
Wait, why can't you do it yourself? I mean, you're the one who taught me Offdoff, so you're more than capable of doing it on your own.
Regardless, I do as Seamore requests and slam the swan thingy off of his shell.
He may be stupid, but he seems like a pretty cool guy. I ask him if he knows what the swan thing is.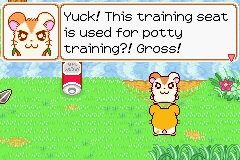 It... it's for potty training.
...I didn't even know hamsters

HAD

potties, and I've been here for I don't even know how long. I ask Seamore to keep it since I really don't want to have to put it in my inventory, even if that other hamster was looking for it.
Seamore tells me that he's starting a photo booth at the Clubhouse, and takes off. For a hamster who had a toilet seat stuck to his back, he's a good dude! I wouldn't mind seeing more of him later.

Now to get back to business!!
BATTERY GET!

AWWWWW YEAAAAAAAH
.
This is easily the coolest thing I've done as a hamster. And hey there's Bijou.
I'm not here to rescue you, I'm just here to show off my super cool boat. That you can't ride in. Because you're fat. Remember how I always called you Mega-Q?
HOLY CRAP YOU REALLY
ARE
MEGA-Q.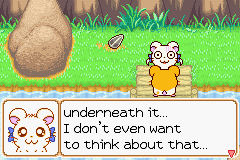 If you were then almost all of my troubles would've instantly vanished. *sigh* If only...
WHAT. No. No! I fly solo. But if you insist on staying, there's only one thing I know that can dissuade you from sticking around!



HAM-HAM ...
PAU

oh what the hell bijou. That's MY signature move! You can't go and cancel my Ham-Ham Punch with a punch of your own!! And you wonder why I hate you.

Can we go now?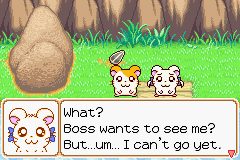 ...WHY
Yeah yeah I saw what was up with Oxnard. So what? Nothing I can do about it.
You want to talk to Pepper, huh? Sounds SO EXCITING.
You really aren't making me hate you any less right now.

Okay, if it will make you come along quietly, I'll help you sort out fatty's romance troubles, but after that we have to go right back to the Clubhouse. Okay? Okay!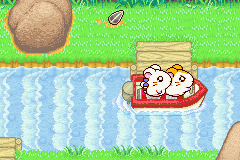 I told you you couldn't ride in the boat, but there's no alternative. Hold on to something, I like to go fast.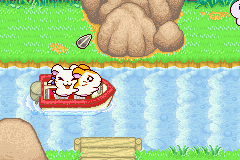 ...
When I said "hold on to something," I didn't mean my ASS.
One sexual harassment lawsuit later, we arrive at the other side of the peak. Before going to meet Pepper, I decide to report to the potty training guy.
Unfortunately, yes. I also found your little brother's swan thingy.
Uhhhhhh no thanks, I've had enough of that sort of thing for one day.

Bijou and I go to see Pepper, but she's still unreachable on her sunflower leaf perch. I try to convince Bijou to give up and go home, but she's dead set on fixing their relationship. Then, I have an idea.
THAT'S FOR INSULTING MY TACK-Q!
..Bijou why are you yelling too? Stop copying me!!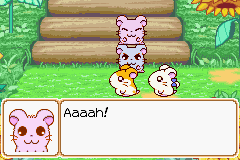 GOOD.
Huh? Wait, I didn't mean to make you guys have an epiphany! I just wanted to get back at you for insulting me! And also for not teaching me your tornado magic!
Why do my attempts to make people miserable always backfire like this!!
...Oh, well, it looks like I learned a new Ham-Chat word. This one explicitly requires two hamsters to use...
Bijou says that she has an idea this time, and drags me back to Pepper's sunflower. Time to put this new word to use, I guess.
Hey, wait, I never said I'd let you be on top!
...But then again, you're the one who wanted to talk to Pepper. Ugh, just be quick about it, you're really heavy.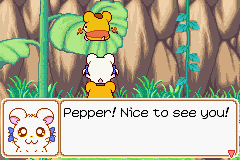 QUIT THE SMALL TALK AND GET TO THE IMPORTANT PART.
Way to tell us things we already know!!
Okay you know what Bijou, just tell Pepper to climb down here, I can't hold you up much longer.
NO NOT LIKE THAT
WHY DO YOU ALL HATE ME

Okay, with Pepper safely on the ground and Bijou safely not caving in my skull, we can continue this conversation.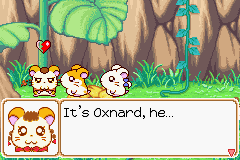 Oh dear, what sort of horrible atrocities has Oxnard committed! SPILL HIS DARK SECRETS, PEPPER.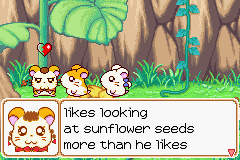 ...that's dumb. You're dumb.
GO CRY ME A RIVER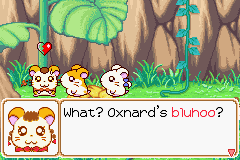 That's not what I meant at all!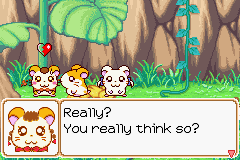 Bijou continues to try and fix Pepper's relationship with Oxnard. I start to tone it out because Pepper keeps saying "oh but Oxnard likes sunflower seeds more than me" and Bijou keeps saying "nuh uh he is in ~TRUE LOVE~ with you" and it's just so boring and repetitive.
Eventually Pepper reveals that some Spat character was the one who told her Oxnard didn't like her anymore. Way to believe literally anything you hear, Pepper!
And with another sickeningly cute Ham-Chat word added to the Dictionary, Pepper runs off to apologize to Oxnard. Bijou suggests we follow them, and I go along with her because what else am I gonna do with my time.
Oh good, he's finally stopped crying. You can't see it in this picture, but just off that cliff is a whole new lake formed by Oxnard's tears.
Yeah, shut up, kid.
Wonderful. Now that they're back together, they can spread hurtful rumors about all the other hamsters. I hope you're happy, Bijou!
Oxnard gives Pepper his comically large sunflower seed. I'm honestly surprised he didn't wind up eating it while he was forming Lake Whining.
This is pathetic. Can we go now?
Oh, hey, their heart fragments became one. How ni--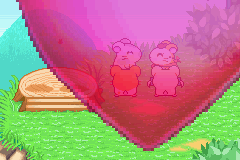 WHOA WHAT
Okay, uh.. that was weird. It looks like the meter thingy I dug up early reacted to that sudden burst of love... what IS this thing, really?
Regardless, we finally got those two back together, so it's (finally) time to return to the Clubhouse. But first...



HAM-HAM...
FISTBUMP!

...Wait, no, that's not what I wanted to do at all! I HATE YOU BIJOU.
CHAPTER 1: TO BE CONCLUDED...
Next update is going to be much shorter than this one. Then we can finally move on to a new chapter...