Offline
ROYAL RAINBOW

Joined: December 4th, 2003, 1:32 am
Posts: 4447
Favorite Kirby Game: Kirby's Dream Land 3
Location: Probably somewhere
In order to make up for what happened with Dragon Warrior Monsters 2: Revor's Journey, I am going to play through another game. I know I said "Final Fantasy 1," but... I'm sure that's been done before. Besides, this way I won't have to take so many screenshots since there's not a lot of text, and the game shouldn't take too long to complete since it's not particularly difficult. Besides, it's the only Hamtaro game that isn't on the DS that I have not beaten yet, so I might as well play it. Since there isn't much to go by I'll be making up my own story to go with it. And because of that, it probably won't be super-funny or anything, so if you want funny stick with THIEF's Adventure or Magi's Mother 2 Mania.
Anyways... Let's begin! HOO-HA
Prologue: Welcome to Crazy Hamster World!
One morning I awoke, feeling a bit different than usual. Something was off. Something was different, but what? And then, it hit me: Somehow I had become a small orange-and-white hamster overnight.

...Well, at least I wasn't a cockroach.

Looking around, I realized that I have not only changed forms, but have also changed locations as well. I was now in what looked like a children's clubhouse. Normally I'd be excited to play around in a place like this, but I was still a bit confused by the whole "waking-up-as-a-hamster" thing.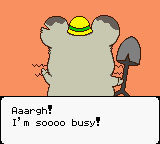 As I investigated my new surroundings, I spotted another hamster, mumbling something to himself. I approached him, and I guess he heard me because almost immediately he whirled around to face me.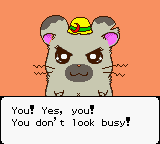 I was rendered speechless and very afraid. This hamster was bigger than me, and that hard hat and torn right ear suggested that he was a TOUGH CUSTOMER.
NO LEAVE ME ALONE SCARY HAMSTER MAN
DON'T NARROW YOUR EYES AT ME LIKE THAT, I DON'T WANT TO DIE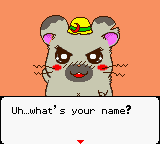 The other hamster blushed and asked for my name. I was rather surprised by this, since... well, normally when I run into something larger and more intimidating than myself, they want to eat me.
Timidly I squeaked out a pseudonym based on one of my characters, but I forgot one of the d's. I think it's for the best if he doesn't know my REAL name.
Then he asked me to find some ham, twice.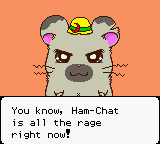 I was about to ask the scary hamster man to clarify what he meant by "Ham-Ham," but he immediately delved into nonsense about some sort of pig-talk.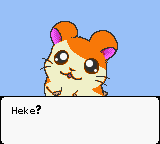 So I demonstrated my confusion to this situation the only way I know how: By tilting my head slightly and making a cute noise of some sort. It worked before, it'll work again.
I like how he assumes that I know everything and didn't just randomly teleport here in my sleep.
O-oh. Now I'm going to learn how to talk like a pig from a large, intimidating hamster... what have I gotten into?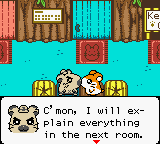 W-why? I... I fear for my safety.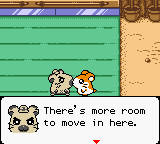 P-please.. I'm smaller than you, and weaker, and...
Oh! Instead of beating me to a pulp (or worse), he presented me with a notebook he found in a dumpster. He says it's brand-new, but it's grimy and smells like tacos and cigarette smoke. Fearing his wrath, I took it anyways... I'm not sure where I stored it, though, since I don't wear any clothes. Maybe being a hamster gives me magic powers.
He then taught me how to say "hello" in the language of pigs.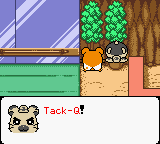 Then he curled into a ball and smashed into a potted plant. I laughed at him.. and then realized that he was teaching me how to do a barrel roll for a reason. Needless to say I ended up with a headache.
I'm not sure why I have to say this word when I sniff the air. The big hamster told me that it's how Ham-Chat works, but I think it's kind of silly. I mean, it's not like people have to yell out the names of their attacks before using them, right?
...Waaaaiiit..
I don't enjoy getting dirty, but if it will please the terrifying hamster...
The big hamster quickly got fed-up with this slow learning process. He grabbed the notebook and jotted down a few Ham-Chat words, expecting me to be able to master them on my own. I would say he's a big jerk, but I don't want him to give me a concussion with that shovel he had in the first screenshot.
I JUST GOT HERE
WHAT IS WRONG WITH YO--
please don't hurt me
I asked if I have a room too. He said no. Then he said yes. I'm not sure which is true. Maybe he's trying to play mind games.
He then showed me to the door and demanded that I find the lunchmeat he mentioned before. Armed with my new ability to speak the language of pigs, I got out of the clubhouse as fast as I could and ran far, far away.

Unfortunately, being a tiny hamster, I couldn't travel very far without becoming tired. While stopping to rest at a small stream, I realized something: I had no idea where I was. Another hamster was resting by the same stream, a makeshift fishing pole in his paws. Ignoring that he wouldn't be able to catch anything bigger than a tadpole, I asked him about my location.

He said I was in Japan. So... I had become a hamster and was transported to Japan. It's a good thing I can speak hamster, otherwise I would be in a lot of trouble.

But... how did this happen? I don't know. All I know is that there's no escape for me, and the only sanctuary I have is with that crazy fat hamster guy who wants me to collect pieces of ham. I guess that's all I can do for now...

END OF PROLOGUE





ide