Offline
ROYAL RAINBOW

Joined: December 4th, 2003, 1:32 am
Posts: 4447
Favorite Kirby Game: Kirby's Dream Land 3
Location: Probably somewhere
What better day than the day after April Fool's Day to upload the next chapter of this saga. There's probably only going to be two or three more chapters after this, to be honest. But I guess I will go down in history as maybe the first Let's Play on KRR to actually end.
CHAPTER 10: Jingle All The Way
Today I shall continuing my tedious quest to unite all the Ham-Hams. According to Boss, there's only three left to find... and I know where to start looking for one of them! But first, maybe I should ask for some help from that smart bookish hamster. He probably knows what kind of random crap I'll need to succeed.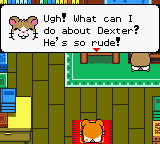 Oh well it looks like he's already busy giving out advice to Howdy.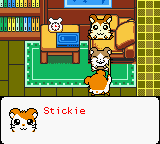 Hey, um. Move it. I need to talk to Maxwell.
Rude? You're quite the rude one!

..Hm, maybe I should try being more submissive.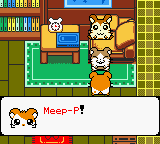 Can you pleaaaase let me talk to Maxwell?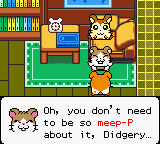 . . .
you know what just forget it.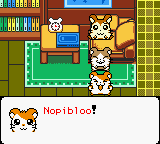 See! It's not a problem anymore!! You can do whatever with Maxwell, I don't care!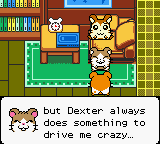 I am going to have nightmares about Pookie-Howdy tonight. And just when I stopped having nightmares about Boss...
According to the Ham-Chat Dictionary, Pookie means "like." Um. But it was kind of implied to mean love as opposed to like... eh... I dunno.
At least I can do this one with style. Howdy looks like some kind of ancient horror from beneath the Earth's crust, unleashed to gouge our eyes out with his crazy Southern accent and terrible, terrible puns.

Anyways. If Maxwell isn't going to give me any information, I'll just have to return to the scene... and by that, I mean the school. That's where that music was, and that's where a dying hamster demanded some flowers.. which I still haven't found yet.
Hey, look! A skellington! It looks kind of small... but I guess it is just a model. I'M GOING IN FOR A CLOSER LOOK!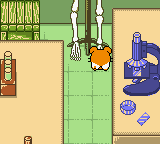 *shake shake*


...did.. did the skeleton... just move?
UWAAAAAAAAAAAAAAAAAAAAAAAAAAAAAAAAAAAAAAAAAAAUGH!!!

..O-oh... it... someone was... was moving the leg... I think I'll give them a piece of my mind.
(insert disgruntled hamster noises here)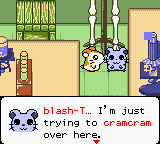 You were trying to.. "cramcram?" I assume that's like cram, except doubly hard. Well, listen, bub. You can study all you want, but when you start scaring the sunflower seeds out of everyone else... that's where I draw the line.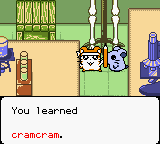 At that moment I drew my mighty power-pencil and erased him from existence.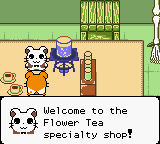 Oh, hey, the tea shop again. I'm gonna have to decline once more, since I don't particularly care for the taste of tea or the taste of flow--

Flower.
~FLASHBACK~
~KCABHSALF~
At that moment, it all became clear. She wasn't asking for an actual flower. She was asking for flower tea! Flower tea is said to cure upset stomachs, and it was pretty clear she was sick... wow, how dense could I get? I'm gonna have to get some of this tea.
But first, let's sniff it. Enjoy the aroma. The fragrance of

dark coffee

flower tea stimulates the mind, body, and soul. And then...
Hakuna Matata! What a wonderful phrase!
Hakuna Matata! Ain't no passing craze!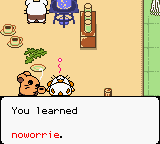 It means no worries! For the rest of your days!
It's our problem-free! Philosophy!
Hakuna Matata!

Okay that's enough Disney songs. Time to get back to the main quest. I'm gonna get some tea!
Yes! I knew ol' fish-bottle would come in handy someday. Unlike "that." Stupid "that." I would throw it away if I didn't feel oddly drawn to it. I love it, yet I hate it. Curse you, "that!" Cuuuuurse yoooooou!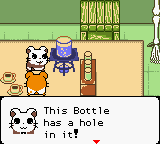 ...Well frick. Now I need to get a new bottle. Unless I can get this one fixed, that is.

...Hey, wait a minute. I know a guy what can fix things up. Back to the clubhouse!!
Spare the formalities, Panda. I got a job for you.
Oh. Um. I guess we have to go back to the school again? I'm.. I'm kind of getting tired from all this running back and forth but okay.
Righto.
Eh? Whawha? Isn't that what babies call water sometimes? ..Um. No. I wasn't feeling water.
Mommy, wow! I'm a big kid now!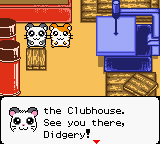 Thanks for the help, dude. Now back to the Flower Tea shop!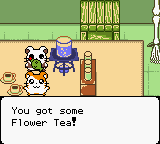 Ewww, Flower Tea looks puke green. And when combined with the fish bottle... I think this is the second to most unappetizing drink I've ever seen. But I guess it won't make any difference to that girl...
Me mind on fire!
Me soul on fire!
Feeling hot hot hot!
Party people!
All around me!
Feeling hot hot hot!
Enjoy your puke in a fish. I mean, flower tea.
M I S S I O N C O M P L E T E !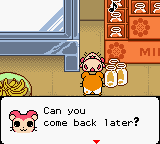 ..Oh, I guess so. I mean, it'll take a bit to take effect anyways, I assume.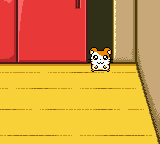 . . . . . .
okay that's six seconds, that should be enough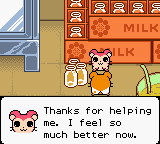 And so it was!!
Yes yes yes. When I get back to my human body, I am totally going to find out what the song's title is so I can download an mp3 of it off the internet, it is that good.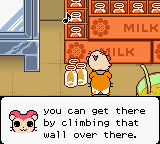 MUST. MEET. ARTIST.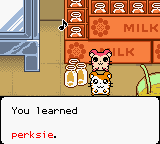 I also learned how to wiggle my ears. I've always wanted to be able to do this, and now that I have big ol' round ol' hamster ears I can actually wiggle 'em ups! It's pretty cool.
Habila-HUP!
HA! I made it outside! And... a hamster is playing the guitar for a bunch of animals. So he's the spoony bard what composed that awesome song! I like his styling mohawk.
You.. you know my name?! ...Oh wait, of course you do, everyone seems to.
So you can't come up with some lyrics... That's kind of unfortunate.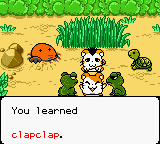 But that performance just now was so cool! So cool I will applaud you!

..You know what, I think I'll try and help you out. I'll try to think up some different Ham-Chat words that you might be able to use for your song!
How 'bout this one?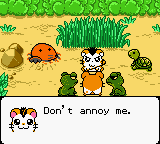 sheesh man seriously i'm just trying to help
..Okay, fine. What about this one?
Oh, so it's gonna be a love-type song? That's always cool. Any music you make is cool!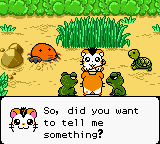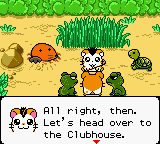 M I S S I O N A C C O M P L I S H E D !
haigh faive
very nice!!
Back at the clubhouse, I also learned how to do some low-five action as well. Man, this guy likes high fives!

...Okay, now I'm going to do something... a little... um...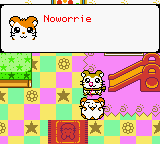 ...Hi, Pashmina. Could.. could I sit in here with you for a little bit?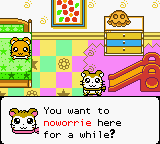 Yeah, exactly... if you don't mind.
.... um... well.... I guess I should tell you the truth... See, I don-- I mean...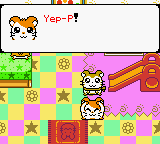 The clubhouse is awesome! Y-yeah! That's right!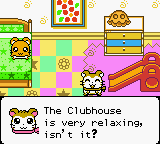 Yeah... yeah, it is.
Um... it was nice talking to you, Pashmina. I.. I'll see you later.


. . .


What the HELL is wrong with me?! Falling for a hamster, especially one that's already hotly contended for... this isn't right. I'm starting to get used to all this. I've got to get out of here and back to normal.


...Somehow.





ide