Offline
ROYAL RAINBOW

Joined: December 4th, 2003, 1:32 am
Posts: 4447
Favorite Kirby Game: Kirby's Dream Land 3
Location: Probably somewhere
Chapter 7: Pointless Mini-Game Brigade
I'm not really sure what to do today. I guess I'll mill about, learning more Ham-Chat until something happens, maybe. I guess the best place to start is by asking the other Ham-Hams?
Stupid ribbon hamster taught me "Goodgo," which means... "good going?" "Good luck?" Something like that. I thanked her. And then I called her fat again. Hee hee hee, I'm such a stinker.
Whoa. I didn't even realize there was such a thing as hamster-sized books. Hopefully there will be something here that I'd like to read...

...Wait, what the--? "Eragon?!" Okay, that does it. We're not friends anymore.
* Didgery stared into your soul. *
Aw, yeah. Looks like Pashmina totally digs me. Now all I need to do is figure out a way to get rid of Howdy and Dext--...

Jesus H. Christ, what am I thinking!? It's almost like the longer I stay a hamster, the more I begin to think like one.. or at least, the more I begin to accept this as my actual reality. No way, man. I'm not going to do this for the rest of my life. I gotta get out of here.
So, naturally, I went to the market. To buy.. some kind of a.. fish sauce. Y-yeah. Or maybe I'll just try talking to peo-
WHYWON'TYOULEAVEMEALOOOOOOONE

The crazy Ham-Swap salesdude was all, "you have to buy this Flugo! It'll cure any cold instantly!" And I thought, hey, that's not so bad.
And then he was like "20 sunflower seeds" and I thought, no way man that's a rip-off.
And then he was like "darn..." and I thought, darn right skippy
And then he was like "Okay how about I give it to you at the low low price of one sunflower seed!" And I thought, wow that's like almost free, that's a great deal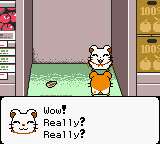 Yes, really, really.
Oh boy! Now I can be Dr. Mario!! Time to go treat the sick hamster guy that was foreshadowed in the previous chapter.
You need to Chill, dude. It's like you've got a Fever.
*canned laughter*
No prob, Bob. Now hit me with some of that reward action! Maybe it'll be a new Ham-Chat word, or some item I need to use to learn some more words, like that flower I'm still looking for.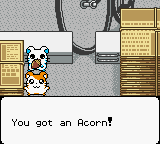 ...Oh. An acorn. I'm excited.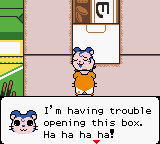 Back at the market, this loser is trying to open a box of cookies by slamming into it. That's not gonna work, obviously, but he's just too dense to figure it out.
TAKE THAT!
All right, now that he's out of the way, time to open this cookie box!
OPEN SAYS ME
I guess I hit him so hard that he forgot that I hit him so hard. That's good!
OM NOM NOM NOM NOM.. This cookie is DELICIOUS! But I can't sit around and eat delicious cookies all day. I have to keep exploring.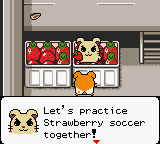 Oh. That guy again. He wants me to play some of his dumb game... well, I know just what to say to that.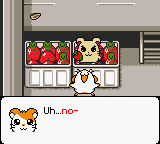 *TWEEEEEEEEEEEEEEEEEEEEEEE*


OW! My ears! My sensitive hamster ears!! What was that for?!
HRRRGH you are so stubborn I hate you. I don't want to do this! Don't force me to play this stupid mini-game!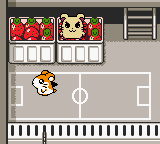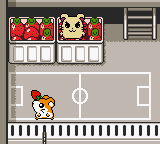 Actually, it wasn't too difficult of a mini-game. All I had to do was make sure to follow the strawberries as they flew through the air, and then bounce them off my nose. I wasn't really athletic when I was a human, but as a hamster I'm just packed with energy. Must be all the sunflower seeds.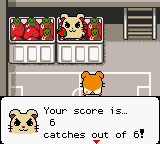 Are you going to give me a prize? I hope it's a flower. I've been looking for one, and..
Oh. A song. I only listen to K.K. Slider's stuff, so, um.. I am not sure if I can really accept th-
*TWEEEEEEEEEEEEEEEEEEEEEEE*


OKAY FINE I'LL TAKE IT I'LL TAKE IT. Sheesh.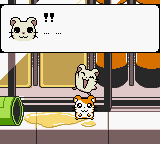 And then I found this guy on the other side of the sliding glass that kept copying everything I did. Hm, I wonder..
..Okay seriously I think there may be something wrong with me. I normally would never publicly urinate like that.. um. Uh. Um.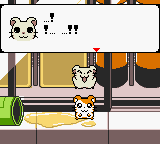 you are weiiiiiiiird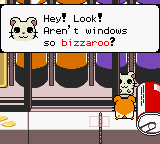 Um. Yeah. I know that. I'm not stupid, like you are.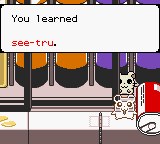 I learned how to turn invisible! Like some kind of.. invisible... magic... ability... power... thing. Whatever.

I think I'm done here in the market. But before I go...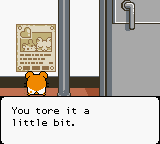 That's for publishing slanderous material, you stupid, stupid hamster journalist!!

I headed to the Ruins, because I felt like I needed to tell the truth to Mama Hamskewitz about the weather. But first I decided to teach that old fuddy-duddy at the entrance a lesson somehow But how...?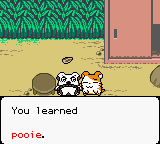 Long story short, I dropped a saucepan on him. Okay, now to see Mama Hamskewitz.
Yeaah, that's the truth. Um. Sorry for lying.
When she and her children left, a hole became apparent! Time to get exploring!
.... in hindsight this was a terrible ideAAAAAAAAAAAAAAAAAAAAAAAAAAAAAAAAAAAa
AAAAAAAAAAthunk.
well, um.. I guess I found green hat kid? And he's hanging out at a... hamster Chuck-E-Cheese or something. Without any pizza.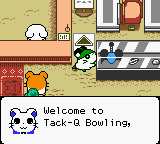 Fun! I wonder how the hamsters power this fun little amusement?
..Oh, uh, I guess it is actually hamster-powered. That makes sense... sort of... They taught me that "blahh" means "tired." I'm actually feeling kind of blahh right now, because I just want to stop running around and getting all of the Ham-Hams to go back to the clubhouse. Anyways.
Yes. Yes I did.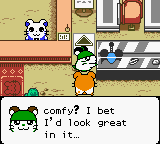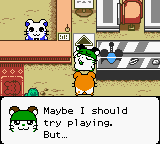 He told me that he's obsessed with this "Shogun Wig," which is exactly what it sounds like. It's really kind of dumb-looking, actually. But he doesn't seem to realize that. I told him to come back to the clubhouse.
Yes! That was easy.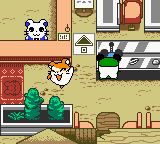 GO GO HAM-...
oh you stupid green-hatted loser. I guess I am going to have to play this stupid mini-game. How bothersome...
LET'S BOWLING!
one minute later..
Okay NOW we can get out of here.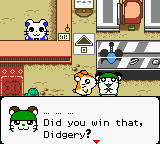 Yes okay, can we go now
As opposed to feeling Chansey.

And now, for real....
GO GO HAM-HAM PUNCH!!

END OF CHAPTER 7





ide